Details
ALL ORDERS OVER $1000 (FREE FREIGHT)
Lifetime Warranty, AND Free Play Kit
Legacy Pool Tables include a Lifetime Warranty, Free Shipping, and Free Play Kit.
- See more at: http://www.legacybilliards.com/ryan.html#sthash.AyDtEIyy.dpuf
The Rylee pool table's graceful styling includes an arched cabinet, ball & claw legs, solid hardwood cabinetry and hardwood top rails, blinds and legs. With a classic, elegant style, handcrafted design, and affordable price, the Rylee will immediately transform your home billiard or game room. The Rylee's high-quality construction is backed by Legacy's lifetime warranty. - See more at: http://www.legacybilliards.com/rylee.html#sthash.OXuYcILT.dpuf
Artistically blending clean lines with dramatic curves, the Radley pool table pairs ageless beauty with impeccable style. The Radley's hand-crafted design and solid wood construction make it an heirloom-quality investment for your home game room

Hide the Clutter, add a Perfect Drawer

Size
7-foot
8-foot

Finishes Available
Black Cherry
Nutmeg
Traditional Oak
Port

Leg Option
Rams Head

Table Construction
1.25" Solid wood cabinet
High torque t-nut fasteners
Patented all wood corner construction

Rail Sights
Diamond pearl

Pockets
Leather shield

Slate
3 piece 1" backed
Room Size Chart
MINIMUM SPACE REQUIREMENTS
Use this chart to determine the room size needed for a particular table and cue combination.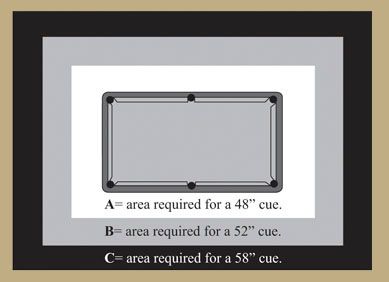 Seven foot table: 3.5' x 7'
A - 11' x 14'
B - 12' x 15'
C - 13' x 16'

Eight foot table: 4' x 8'
A - 12' x 15'
B - 12' x 16'
C - 13' x 17'

Nine foot table: 4.5' x 9'
A - 12' x 16'
B - 13' x 17'
C - 14' x 18' - See more at: http://www.legacybilliards.com/ryan.html#sthash.AyDtEIyy.dpuf
Seven foot table: 3.5' x 7'
A - 11' x 14'
B - 12' x 15'
C - 13' x 16'

Eight foot table: 4' x 8'
A - 12' x 15'
B - 12' x 16'
C - 13' x 17'

Nine foot table: 4.5' x 9'
A - 12' x 16'
B - 13' x 17'
C - 14' x 18' - See more at: http://www.legacybilliards.com/ryan.html#sthash.AyDtEIyy.dpuf
Seven foot table: 3.5' x 7'
A - 11' x 14'
B - 12' x 15'
C - 13' x 16'

Eight foot table: 4' x 8'
A - 12' x 15'
B - 12' x 16'
C - 13' x 17'

Nine foot table: 4.5' x 9'
A - 12' x 16'
B - 13' x 17'
C - 14' x 18'